D

a Nang, Vietnam's Third Largest City, Is Often Skimmed Over By Travellers Who Pass Through This Port City Only To Visit The Nearby Tourist Hubs Of Hoi An And Hue. But If You Choose To Explore Beyond The Airport Terminal, You Will Discover A True Gem.
1. Be welcomed by friendly faces
Expect a warm welcome when you arrive in Da Nang as this city has yet to experience the tourist weariness that is obvious in some of the more well-known South East Asian destinations. Visitors are greeted with open arms and most of the locals are willing to lend a hand to new arrivals, whether they need directions, a motorbike or food recommendations. Da Nang is a relatively safe place, and the crime rate is pretty low, but of course it is always important to take safety precautions. Petty theft is the most common offense here so be sure to keep a close eye on your belongings.
2. Gateway to central Vietnam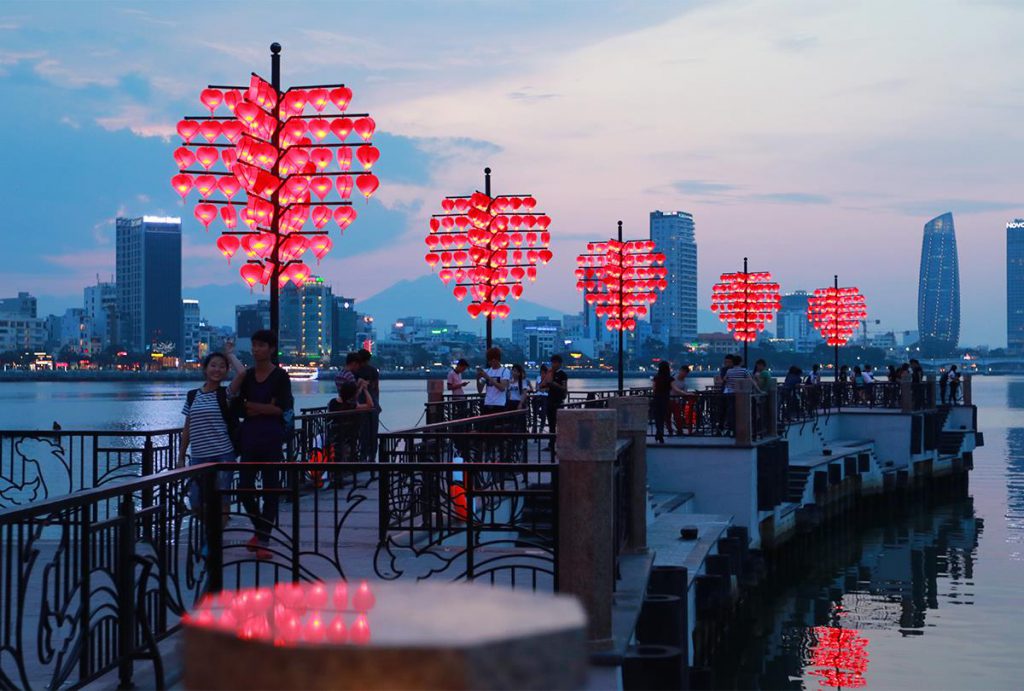 While Da Nang is a vibrant city full of things to explore, it also serves as the perfect base for exploring the rest of central Vietnam. The ornate and colourful ancient town of Hoi An is only a 30-minute drive away, while other top spots such as the historic imperial capital of Hue, the picturesque Marble Mountains and the ancient Hindu temples at My Sơn are all within easy reach. One place you don't want to miss is Hai Van Pass, a 21 kilometre scenic roadway through the mountains that became famous following an appearance on Top Gear, and is best explored on motorbike. Those not brave enough to hit the road themselves can take a back seat and enjoy the scenery as part of an organised motorbike tour.
3. Dig into delectable dishes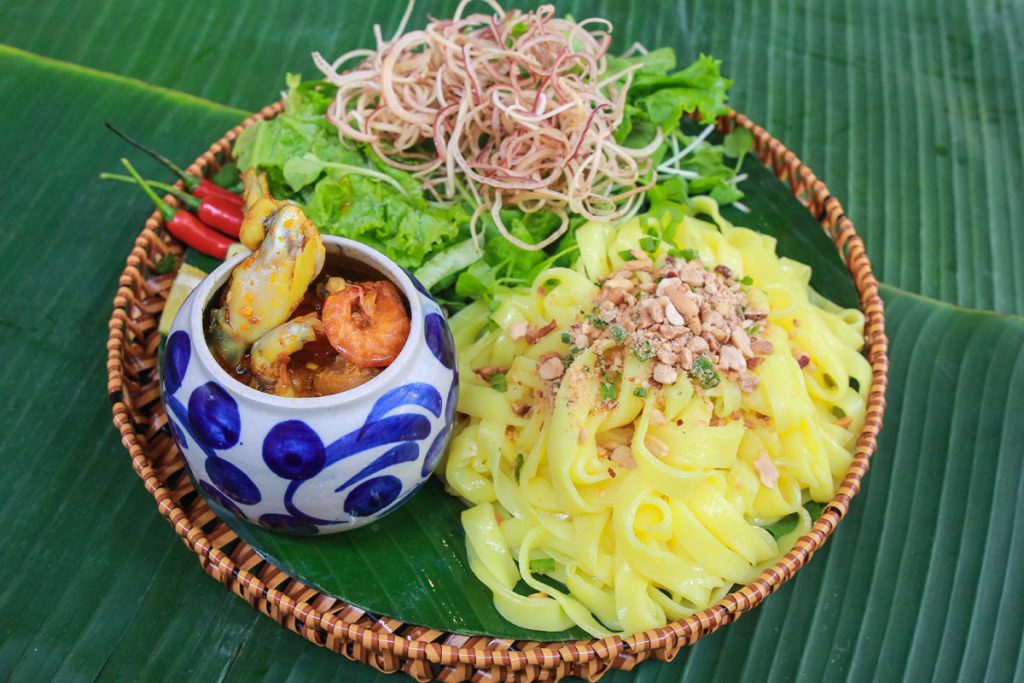 Vietnam isn't the first place that comes to mind when you think of tasty cuisine, and newbies may be turned off by stories about pork hocks, duck embryo and snake wine. Yet, on learning some local lingo and embracing an adventurous appetite, you will soon fall in love with the delicate and fresh flavours.
Da Nang is no exception to this rule; in fact, the city showcases some of the best food that the country has to offer, like a medley of local, southern and northern dishes. For an authentic meal, chow down on mì quảng (thick turmeric rice noodles in a tasty broth), usually topped with a choice of meat, fresh herbs and salty peanuts. Other central Vietnamese specialties include bún chả cá (fish ball noodle soup) and bún mắm (fermented vermicelli soup).
If fish is your dish, then Da Nang should be your first port of call as the seafront is brimming with affordable seafood restaurants. Non-meat eaters need not feel hard done by either, as the city is simply packed with quan chay (vegetarian) restaurants – you just have to find them first!
4. One step away from nature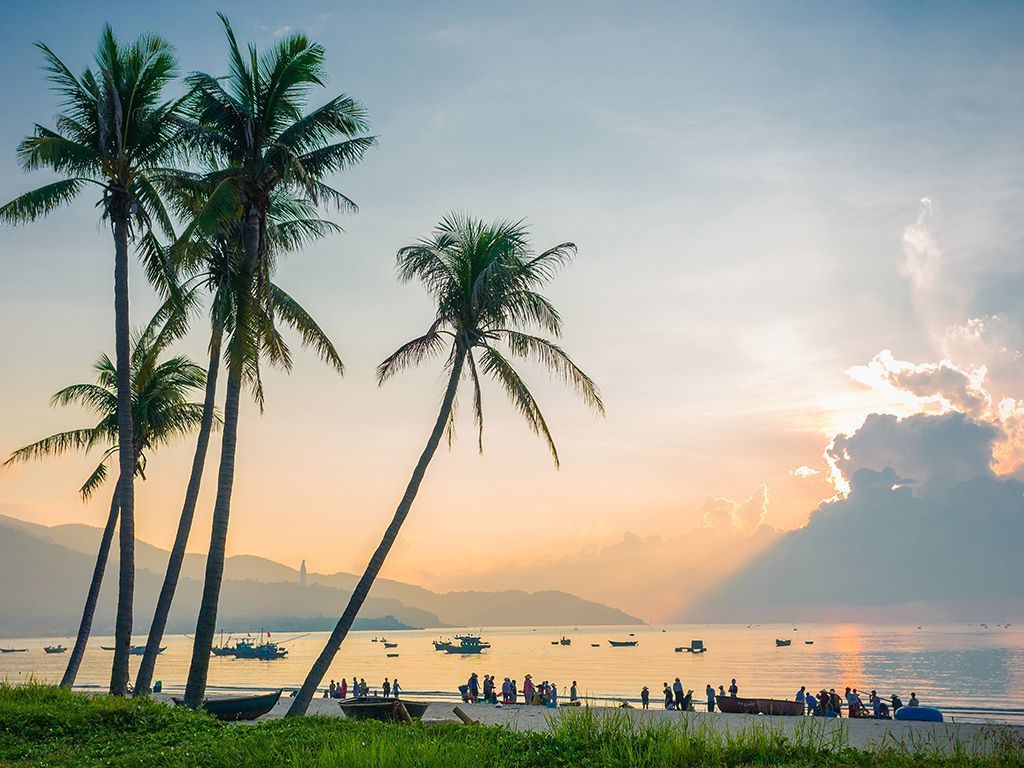 Not many large cities in South East Asia boast a national park on their doorstep but this is where Da Nang stands out from the crowd. Just a short drive from the city sits Son Tra Mountain, a lush green forested nature reserve towering 693 metres above sea level. While hiking to the top isn't impossible, most choose to wind their way up by motorbike – though it must be noted that a powerful vehicle is required.
You will be spoiled with stunning coastline views along the way, as well as some interesting stop-off points including Man Thai Fishing Village, the 67m-tall Lady Buddha, the 1,000-year-old Banyan tree and Ban Co Peak. If you are lucky, you might catch a glimpse of some of Son Tra's natural residents, such as the rhesus macaque, red-bellied squirrel or the extremely rare red-shanked douc langur. As the tourism industry continues to rapidly expand here, the future of Son Tra Peninsula is under threat so visit while you can.
5. Run powdery sands through bare toes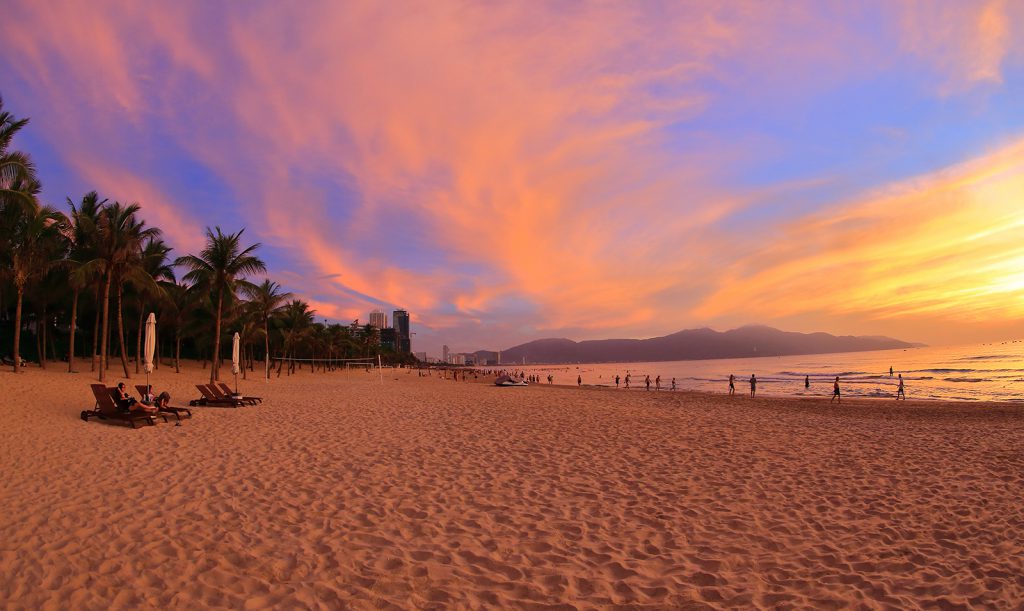 If you're a beach bunny, it's good to know that Da Nang is home to arguably one of the cleanest and most beautiful coastlines in Vietnam. Stretching for 30 kilometres along the edge of the South China Sea, it hosts several top-class beaches, from secluded bays to tourist hotspots. Perhaps the most famous is My Khe beach, also known as China Beach, which was named by Forbes Magazine as one of the best beaches in the world. Located on the edge of the city, this stunning white sandy stretch sees large crowds in the early mornings and evenings but is relatively deserted throughout the day. However, owing to its immense size, you are always sure to find a spot to yourself, no matter when you go.
After experiencing the madness of the city, this beach is the perfect place to relax and rejuvenate under the shade of an umbrella while gazing out onto crystal clear waters. If you aren't ready to chill out, test your hand at some surfing, jet-skiing or paragliding. For those who want something more secluded, check out some of the beaches along the Son Tra Peninsula.
6. Non-stop entertainment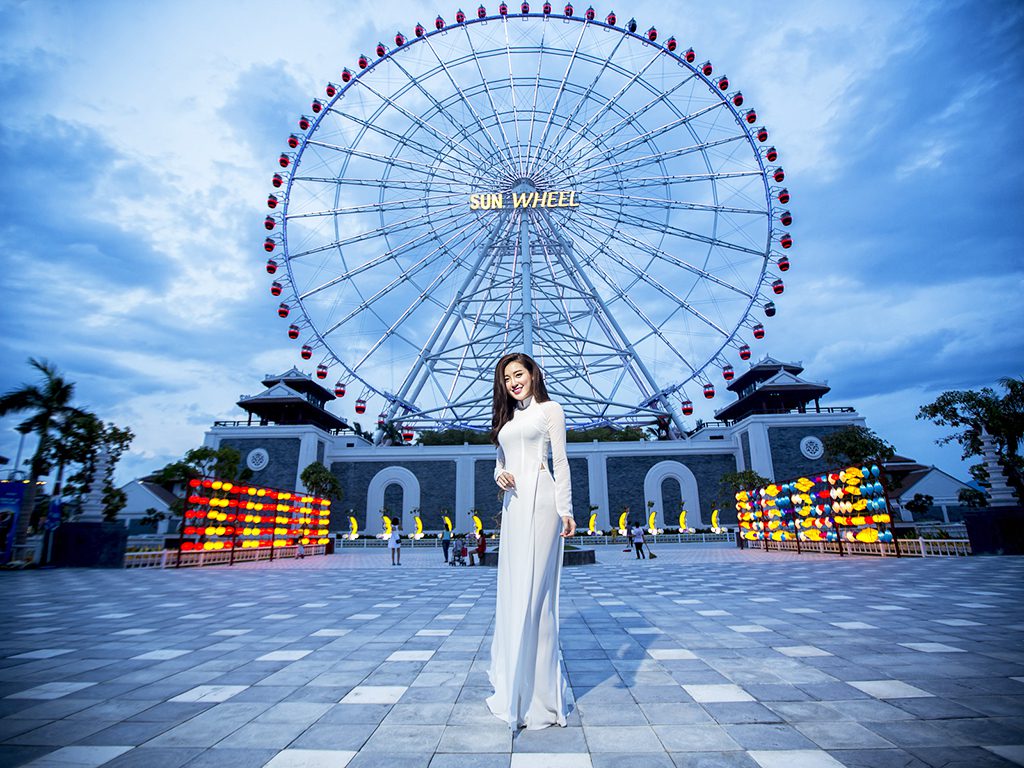 If lazing on the beach isn't for you, it's easy to keep entertained while in Da Nang. The city is home to plenty of young locals and expats who are always looking for a good time and organised events such as beach yoga, language exchanges, lunch meet-ups and board game nights are all weekly occurrences.
Da Nang also boasts a wide variety of fun and interesting attractions including a small ice-rink, several museums, a concert venue and Asia Park – one of the largest theme parks in South East Asia. Thrill-seekers can get a kick out of the roller-coasters and other fast-paced rides here before taking it down a notch on the 115 metre-high Sunwheel. Meanwhile, party animals eager for a night on the town should look no further than Bach Dang Street, that is lined with dozens of lively bars, restaurants and late-night venues.
7. Bright, blinking city lights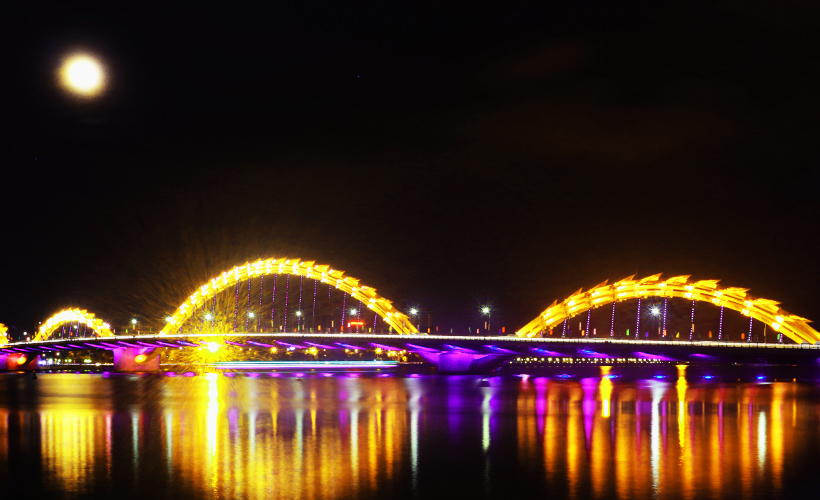 New York, Sydney and London are all famous for their skylines, and while Da Nang is a world away from all that glitz, it does present quite a sight with towering buildings and sparkling bridges. Want to see the city at its best? Aim high and head to the glamourous Skybar at D and G Hotel, where you can watch the city twinkle while wining and dining the night away.
For the cash-strapped, stroll or bike it to one of Da Nang's many bridges and simply take in the city lights from the Han River. The most famous is Dragon Bridge, one of the longest bridges in Vietnam and one that certainly lives up to its name. The long, majestic bridge takes the form of a gilded dragon, complete with large fangs and hypnotising eyes. On weekend nights, many flock to the bridge to see the illuminated dragon breathe fire and water.
8. Hunt for bargains at the markets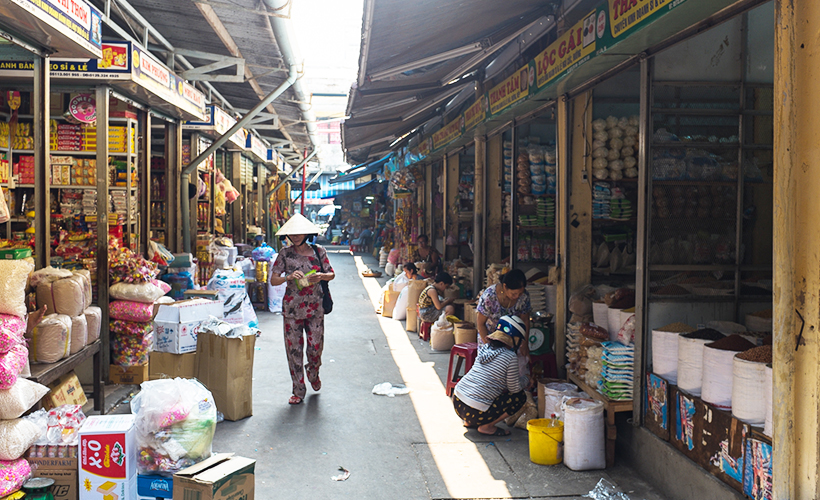 It's time to brush up on those bargaining skills! The markets of Da Nang are treasure troves brimming with everything from fresh herbs and spices to casual clothing and just about anything else you can think of. Perhaps the most well-known is Con Market, located in the city centre. It may look small but delve a little deeper and you will find a sprawling bazaar with thousands of vendors showcasing a diverse selection of items. Homeware, clothing, shoes, fresh produce, souvenirs and jewellery can all be found at dirt cheap prices here, and if shopping leaves you peckish, there are food stalls and plenty of fruit vendors nearby.
Also worthy of a mention are Han Market and Bac My An Market, which are particularly great for their affordable fruits and vegetables. If you prefer a more conventional shopping experience, Vincom shopping mall and Indochina Towers are full of familiar brands, while boutiques dot the city.